XenCenter is syncing endless with XenServer
Some days ago I ran into the problem that XenCenter was not connecting to my XenServer correctly. The initial connect seems to be fine, but it got stuck at "synchronizing with …".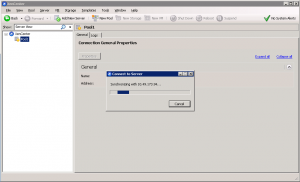 Further investigation showed that the Server was accesible at TCP/443 and the client was connecting correctly, no hints in XenCenter or XenServer logs. I encountered the same issues with the XAPI Tool xe.exe and powershell commandlets.
I found it even more interesting that I could connect with XenCenter from other clients. The clients causing problems were VMs running inside the XenServer itself, while the other clients – as my local workstation – were connecting without complications. When starting to solve the problem at VM level, I noticed that the problem just starts after XenServer tools were installed.
I had a look in the vNIC driver settings (XenServer tools are updating these drivers at setup) and disabled Large Receive Offload (IPv4) setting. Et Voilà – issue solved!
This issue is related to XenServer Tools 6.0.2.